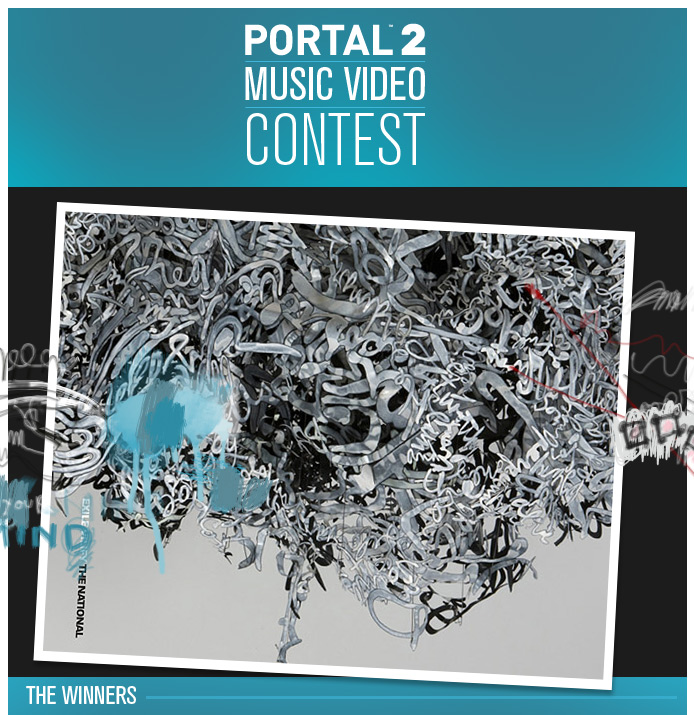 Normally, when the people holding a contest tell you picking a winner was really difficult, they're lying. We point that out only because, in this case, picking a winner was actually, honest-to-God really difficult.
We started with 320 videos. Seven days later, we'd narrowed it to three. Five days after that, we were down to two and feeling pretty good about ourselves. And that's when we hit a wall. Weeks passed, friendships ended, people were fired, and we were still no closer to choosing a winner.
We were stuck between two very different videos. One was a terrific retelling of the Ratman story. The other had nothing to do with Portal, Valve, The National, being exiled OR being vilified, but managed to beautifully capture the spirit of the song by starring the world's saddest sock puppet. Unfortunately, according to our own stupid contest rules and the number of guitars we have for prizes (one), only one video could win.
After a few more weeks of fruitless debate, we realized there was a group who could help us crack this seemingly intractable stalemate: The United Nations. When that didn't pan out, we turned to another group: The guys who'd made the song, The National. They managed to pick a slim favorite, but weren't comfortable leaving the #2 video in the dust. So after a few more days of hard words and hurt feelings, we finally decided to award a first place winner followed by a mathematically imperceptibly close 1.00000000001th place winner. Both will receive the same great prize package, the only difference being that place #1 will include a guitar and place #1.00000000001 will feature an Aperture Science messenger bag signed by the Portal 2 Team.
1st Place Winner
1.00000000001th Place
Rounding out the winners is the second place winner.
Thanks to everyone who entered! There were too many great entries to mention all the standout ones, but here are a few highlights:
Best Use of Legos
Best Ratman Cosplay
Best Turret Story
Best Use of Green Screen
Best Caroline Story
Best "That Band is a Spy!"
Best Puppets, Non-Sock Category
Best Master Copy
Best Video Our Lawyers Won't Let Us Pick

Sharp-eared music fans will have already found the haunting track "Exile, Vilify" by The National in Portal 2. Clearly Rat Man is a big fan of of the song, based on some of the art decorating the walls of his dens. But as any museum fan can tell you, there's nothing a fancypants painting can say that a YouTube video can't say a hundred times better.
That's where you come in. "Exile, Vilify" doesn't have a music video, and we'd like you to correct this horrendous oversight with the Portal 2 Music Video Contest. Make the winning video and you'll receive
an Eastwood guitar
, signed by The National. You'll also win the ultimate box of schwag from Valve, including shirts, posters, and other stuff we'll be grabbing off co-workers desks when they're not looking. Plus bonus shirts from
Jinx
.
Direct your video vision with live action, game assets, shots of the band, sock puppets, whatever you want. Just make sure you get it submitted with the tag PORTAL2NATIONALEXILE to YouTube by July 15th.
For more information on The National visit their
web site American Mary
.
For more information on Portal 2, here's a link back to the
official website
.
But that's not all! Are you a huge fan of long, tedious legalese explaining the minutiae of contest rules? Then your ship has come in, friend. Read on!

CONTEST RULES (a) NO PURCHASE NECESSARY. (b) Contest is void where prohibited by law, and is governed by the law of Washington, USA. (c) Employees of Valve (including directors, officers) and their immediate families or affiliates are not eligible. (d) Contest sponsored by Valve Software ("Sponsor"), P.O. Box 1688, Bellevue, WA 98009-1688. (e) Contest ends July 15th, 2011. A winner will be announced by July 22nd, 2011, on http://www.thinkwithportals.com .(f) Entries must be submitted no later than 11:59:59 EST, July 15th, 2011. (g) Entries must be submitted to
YouTube.com
with the tag PORTAL2NATIONALEXILE. (h) Guitar valued at approximately US$450. (i) Odds of winning dependent on final number of entrants. (j) Final winners chosen by Valve, whose decision is final and binding. (k) A winner will be notified by YouTube messaging. (l) By entering into this contest, you (or your parent or legal guardian if you are a minor) agree to release, discharge, and hold harmless Valve from any liability whatsoever, and waive any and all causes of action, related to any claims, costs, injuries, losses, taxes, expenses or damages of any kind, either at law or in equity, whether known or unknown, arising out of or in connection with this contest, including the possession, use or inability to use any prize. (m) All entries submitted are the property of Sponsor and will not be returned. (n) The winner (or the winner's parent or legal guardian if the winner is a minor) consents to the use of his/her name, likeness, photograph in any and all media for promotional purposes in any manner by Sponsor, its designees and its advertising and promotion agencies without further compensation or notification, except where prohibited by law. (o) The winner is solely responsible for any taxes applicable to the prize. (p) Valve shall not be liable for (i) lost, misdirected, damaged, illegible, incomplete, or late entries, (ii) any conditions beyond the control of Sponsor that may cause the contest to be disrupted, or (iii) any losses or damages of any kind resulting directly or indirectly from acceptance or use of a prize awarded in this contest or for participation in this contest.