April 5, 2011 - The Portal 2 Team
This week's reason to pre-invest in Aperture Laboratories: CEO and founder Cave Johnson's announcement that the applied sciences company is making its military-grade turret line available to consumers. The first, last and most scientific word in personal defense, the Home Safety Turret should be a hot seller when Aperture goes public April 19th.
Aperture was kind enough to send us a prototype Home Safety Turret in an effort to "sweeten the pot" (Cave's words) for any potential investors here at Valve. We're still leafing through its 33,000-page instruction manual, most of which seems to be "hold harmless" clauses releasing Aperture from any responsibility in the use, unpackaging, cleaning, reloading, holding or entering the proximity of its product.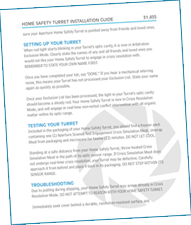 We'll be sure to give you an update the second we get it up and running. In the meantime, why not
pre-invest today
?