June 27, 2011 - The Portal 2 Team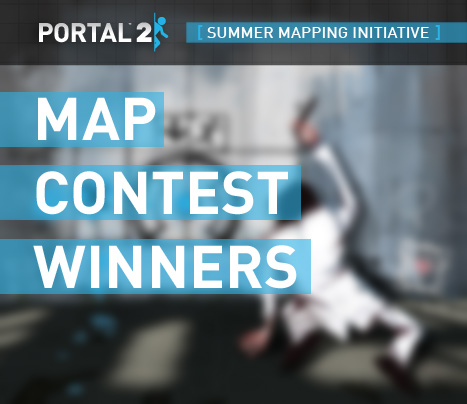 The Summer Mapping Initiative has been completed and
thinkingwithportals.com
has selected the winners. There were 280 entries that took the 13 Judges over 140 hours to play.
Patent Pending
was the overall winner with
Infinifling
grabbing second place. The voting was so close, we added an honorable mention for
Edifice
.
Since we all know that the appreciation of your fellow man is not a real prize, they will all also be receiving the following:
Jinx Portal 2 Gear
Gels
and a
Shirt
from Think Geek.
Gear from Glitch
More
Shirts
than you can wear in a week, enough
Posters
to wallpaper your cell, and
more
from Valve.
Not pictured because we haven't even released them yet - the winners will also receive a Wheatley Laboratories Glow in the Dark T-shirt and the super cool 70s Portal 2 poster signed by the entire team.
Right now we know what you're thinking, "I'm an idiot. That's a ton of cool stuff! I should have entered that contest!"
First. You're right. Second, don't worry you still have a chance. This prize package pales in comparison to what Valve and The National have for the winners of the Portal 2 Music Video contest.
Check the rules here
and then get to work! You still have time to make your video, so no excuses - your wardrobe needs it.
In case you're not sure how to check out the winning maps, here are the instructions:
1) Download the map file from ThinkingWithPortals.com.
2) Open up the .ZIP file after it has downloaded.
3) Find the location of your Portal 2 installation on Steam. This is most typically found under:
Windows PC users:
C:\Program Files\Valve\Steam\steamapps\common\portal 2\maps.
Mac users:
~/Library/Application Support/Steam/SteamApps/common/Portal 2/portal2/maps
Note that your installation location may vary, depending on your initial install directory.
4) Copy the .BSP file located in the downloaded file to the directory above.
5) Start Portal 2
6) In the game's main menu, select "Options->Keyboard and Mouse"
7) Set
Allow Developer Console to Enabled
8) Press the tilde (~) key to access the console
9) Type map "mapname here"
10) Solve the puzzle!