September 30, 2011 - The Portal 2 Team
We were chatting with Portal 2 Lead Composer Mike Morasky the other day, and he casually mentioned that Songs to Test By Volumes One and Two have, to date, been downloaded close to two million times. We said that was nice, even though it didn't have anything to do with what we'd been talking about (bass fishing), and we asked him if we could go back to talking about that. Mike said okay. Then he asked us if we'd ever been bass fishing a million times, because if we had that would mean we'd fished for bass half as much as the Portal 2 soundtrack's been downloaded. This is why we don't talk to Mike.
Anyway, the third and final volume of Songs to Test by is now available to download. We're not sure how many times the last two volumes were downloaded--five times, maybe, or six, if we had to guess--but according to the number currently being sky-written by a plane outside Valve's windows it was actually two million. Make it two million and one now.
Oh yeah, by the way, before we forget, the first Portal 2 DLC, "Peer Review" will be out next Wednesday. For free.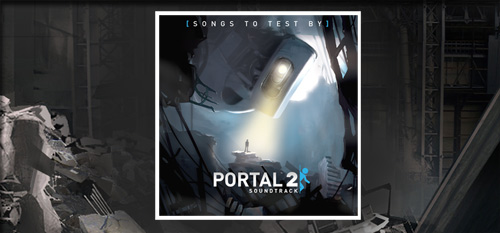 Visit the music site