October 4, 2011 - The Portal 2 Team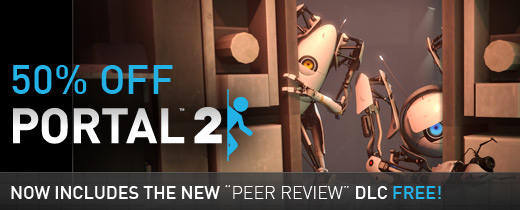 An all-new co-op adventure starring Atlas, P-Body and GLaDOS, the free DLC "Peer Review" takes place an unknown period of time after the events of
Portal 2
. You and your co-op science partner are once again awoken and assembled for a dangerous new mission. Did we say "dangerous"? We meant routine. Everything's fine. That slight note of terror you're hearing in GLaDOS's voice is probably just an audio calibration error. Anyway, on with your suicide mission. And when we say "suicide mission" we mean it would be suicide not to take this mission. Because it's so safe. Everything's fine.
"Peer Review" is being rolled out across all regions on Steam, Xbox LIVE and PSN as we speak. The free DLC is available to all owners of
Portal 2
for download on PS3 and Xbox 360, and will be automatically downloaded via Steam on PC and Mac.
And if you're not an owner of
Portal 2
, don't sweat it, we've made it easier to become one: To celebrate the release of the free DLC,
Portal 2
is on sale for
50% off on Steam
through Thursday.