October 6, 2011 - The Portal 2 Team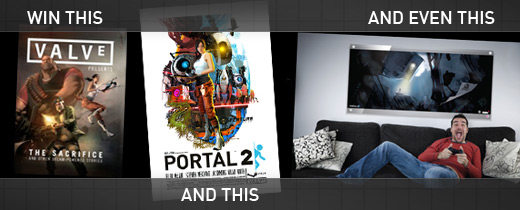 Portal 2's "Peer Review" DLC is live and available everywhere, and to celebrate, some friends have decided they want to give you things.
First up is
Dark Horse
, who will be publishing
"Valve Presents"
, a collection of comics from the Portal 2, Left 4 Dead, and Team Fortress 2 universes. Their contest? Recreate your favorite scene from any Valve comic in-game as machinima. If, like us, you not only don't possess the skill sets to do any of that, you don't possess the skill sets to know what any of the words in that last sentence meant, we've got two words for you: sock puppets. What can you win? Signed copies of "Valve Presents". Plus, the first place winner will also receive an original Michael Avon Oeming drawing. If all of this sounds like a complicated way to get a copy of a book, you can also just go to
Amazon
and give them pieces of paper for one.
On
Jinx's blog
you can post a link to your self-created Portal 2 art and win one of ten signed Portal 2 1970s Action Movie Posters and a $150 J!NX Gift Certificate. We're going to hazard a guess that screenshots aren't art, so be prepared to do some actual work (or at least put a Photoshop filter on your screenshot).
Steel Series
needs some help picking out a Portal 2 mousepad. You can help them by visiting their
site
. Ten random participants will get a prize package made up of Steel Series peripherals. The Grand Prize winner, also chosen at random, will win a large format "Aperture's Requiem" Portal 2 print.
So there you go. As with all third party contests, we urge you to visit the sites linked above to learn more about each contest. We have no idea what the actual rules or legal requirements are for this stuff, and assume no responsibility if you accidentally get a keyboard lodged in your forehead while making machinima.