October 27, 2011 - The Portal 2 Team
After we released the Portal 2 Authoring Tools earlier this year, we were thrilled by how quickly over 700 player-created puzzles were released into the wild. As successful as that was, the feedback we got was that many aspiring puzzle designers were finding that because of the complexity of the tool set, becoming the next GLaDOS was much harder than they expected. On top of that, it was too tedious and time consuming to actually find and play the puzzles that players were creating.
We're going to fix all of that. The next major update to Portal 2 will make it far simpler (and more fun) to create and distribute your own Portal 2 puzzles.
The simplified puzzle creator will let players easily carve out their creations in a straightforward but powerful way. They'll then be able to immediately upload those levels to their Steam Cloud and share them with other players online. We're also building a community site to host all of these player-created puzzles. The site will allow players to quickly find new puzzles and add them to their game, ready to play, with a single click. Players will then be able to rate the puzzles they've played, leave comments for puzzle creators, and follow creators they like.
We're positive there are a ton of great puzzle designers just waiting for the right tools, and we're working hard to tap into all that creativity. We'll keep you posted as we continue to make progress with the update. For now, here are some screenshots of the puzzle creator to get the ideas flowing.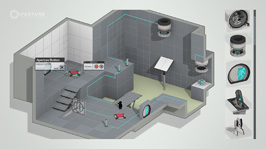 &nbsp &nbsp