December 19, 2011 - The Portal 2 Team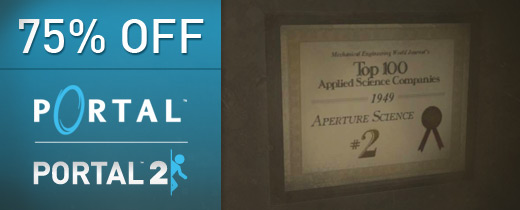 In our last blog post, we announced that both the VGA and X-Play awards had nominated Portal 2 for Game of the Year. How'd things turn out? Well, you'll be happy to learn, we just barely lost both of them, helping cement our frankly historic dominance of the Second Best Game of the Year category. And the good news doesn't end there: We also grabbed the number two spot in
Paste Magazine's first annual GOTY list
, while clawing our way to a dramatic
second place victory on C-Net
. Just so you don't think we're getting cocky, though, the
Associated Press
and
MSN UK
put us at the
top
of their respective lists. You can't not win them all.
To celebrate all this runner-uppering, for the next twenty-four hours, Portal 2 is 75% off on Steam. If you're paying in US dollars, that means you can buy Portal 2 right now for seven dollars and fifty cents! If you're paying in non-US dollars, you'll have to boot up a spreadsheet and do the math yourself, but we guarantee the result will be just as startling.
And if you already own Portal 2, might we suggest you buy a few copies to give away as gifts? No? Well, unless you somehow skipped the last couple sentences,
too late
- it's suggested. Good luck getting the idea out of your head. You may as well buy some copies before it drives you insane. Sure, it's the second best gift you can give this season, but at a price you'd expect from the seventeenth or eighteenth best gift. Plus, let's say you give someone the number
one
game of the year. How are you going to top that next year? You'll have to buy them a car. Be smart about this.