August 16, 2012 - The Portal 2 Team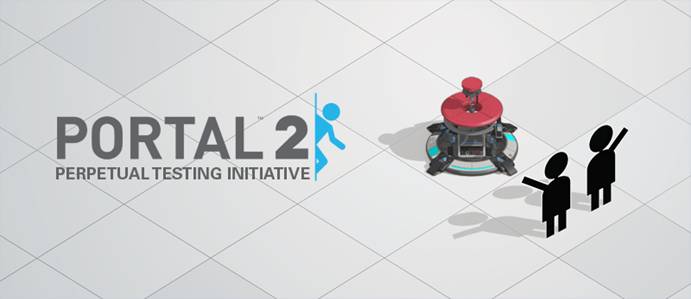 Are you sitting down? If not, you should sit down. Okay, are you sitting down now? Because you should probably actually be lying down for this: As of right this moment, we are giving all current owners of Portal 2 a 75% off Portal 2 coupon. If you're standing back up, dusting yourself off and wondering why you'd want another copy of a game you already own, lie back down real quick because here's the lie-down part: We just added co-op to the Perpetual Testing Initiative.
That's right: Puzzle creators can now design and publish
co-op
maps, which puzzle players can now greedily consume. Well, as long as they have a co-op partner. Which the 75% off coupon should help them (i.e.: you) find. We've also added a "Quick Play" feature that creates never-ending, auto-generated playlists of the top-rated maps in a variety of categories. It has literally never been easier to figuratively jump in and literally play some Portal.